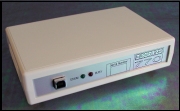 Ease of connection, low cost and good performance are key to our USB product range.

All data acquisition hardware is manufactured on our premises in the UK and certified to ISO 9001 standard. This covers the initial design right through to the free, lifetime, technical support. It comes with Windmill data acquistion software for Windows 7, Vista, XP, 98 and 95. If you're not satisfied with your purchase we'll give you your money back.

Measure temperature, resistance, strain, voltage, current, pH, etc. Plus digital I/O, counting and analogue control.