Windmill Software
Data Logging and Process Control Software
Data acquisition systems need to be versatile and easily expanded when requirements grow. The Windmill software suite meets these needs and has proved itself in hundreds of applications including:
Quality assurance
Research and development
Environmental monitoring
Test and measurement
We package Windmill with all our hardware. It comes with free technical support for life.
We're sorry but we no longer offer Windmill as a stand-alone product. It is only available with data acquisition hardware.

Charting Data with Windmill
Truly Modular | Testimonials | Is Windmill Suitable for You?
---
Truly Modular
Each Windmill program concentrates on doing a single job and you simply run as many programs as you need. You can run several copies of each program, which means there are no fixed limits to the size of a Windmill system. Windmill programs include logging, charting, process mimics, alarm logging, PID control and sequence control.
You can also build specialised modules using a programming language like Visual Basic. Let Windmill take care of the hardware configuration and control, logging to disk, and so on. The finished system could use any of the hardware supported by Windmill.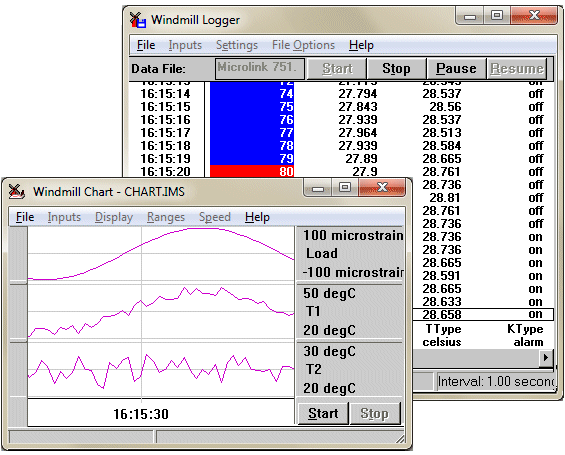 Windmill data acquisition software with Microlink hardware
---
Virtual Instrument, HMI and Process Mimic Generator: Windmill Graphics

An example of a process mimic created by Windmill Graphics
Create hmi windows with Windmill Graphics. This program customises the Windmill software suite, making a versatile system that is unique to your application. The window continuously reflects the state of the system in the real world. Once you've created a window you can protect it from further editing. You can make the display a simple front end, or show enough detail to keep the even the most data hungry happy. Virtual instruments, process mimics, annunciator panels, wiring diagrams... it's entirely up to you.
---
Programming Tools
The Windmill Test Sequence software adds many more facilities to the standard Windmill and Streamer software. For example, Test Sequence lets you:
Perform PID (proportional-integral-derivative) control
Monitor alarms and automatically take appropriate action
Check if a condition is true before doing something - eg if a temperature is greater than 20 oC then switch off the heater
Start and stop logging according to conditions or time of day
Ramp output values up and down
Send key-presses to other Windows programs like Excel
Loop several times through a command sequence - useful, for instance, if you wanted to slowly rotate a head one degree at a time
To use Test Sequence you simply create a text file containing a list of commands, and tell Test Sequence to run it.
The Help file supplied with Test Sequence gives loads of examples on how to perform tasks, and we are happy to help if your application isn't covered. As with the other Windmill programs, Test Sequence is packaged with all our hardware.
---
Testimonials from Windmill Users
"This seems like the best, most versatile, and professional data acquisition/processing suite I have seen. "
FK, Chalmers University of Technology
"Takes away the tedium of old fashioned data-logging and post processing by combining the two tasks into one. It is possible to run simultaneous measurement, computation and graphical analysis macros in Excel under the Windmill environment. "
Napier University
"Excellent software...very helpful "
Ridho
---
Is Windmill Suitable for You?
Windmill runs under Microsoft Windows 10, 8, 7, Vista, XP, 2000 and 98
Supports analogue and digital input and output including:

counters
timers
thermocouples
RTDs
strain gauges
pressure transducers
encoders
environmental monitoring equipment
process control devices
laboratory instruments

Supports an extensive range of equipment and communications protocols.
Speeds up to a maximum of 200 samples per second with 20 or more channels, or with the Streamer module, 100000 samples per second.
Alarm indication on all inputs.
No programming required; all programs are ready to run.
Transfer data to Excel or other applications.
Easy to use.
Free, lifetime, technical support when purchased directly from us.
---