Windmill + COMIML Serial Driver
£50.00
Sale: Was £145 now just £50!

Collect data from 10 instruments via TCP/IP, RS232, RS485, Modbus, RS422. Save data in text files or send directly to Excel. Includes Logger, Chart and Control applications, and software to troubleshoot COM port communications. For a multitude of devices including laboratory balances, GPS, digital indicators, PICs...

751: Multifunction Data Acquisition USB Unit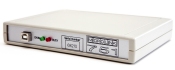 £295.00
Sale: Was £595 now just £295!

For 16 differential analogue inputs, 16 digital inputs/outputs and 8 counters. You can connect eight 751s to one PC. With the addition of suitable Microlink 59x conditioning units, you can also monitor thermocouples, strain gauges, pressure transducers and current. Includes Windmill data acquisition software for logging, charting, output control and direct data transfer to Excel.

Excel Data Logging with the Windmill Real Time Data Server
£50.00
Makes Excel into a data logger which can monitor alarms and control equipment.