Windmill + COMIML Serial Driver
£50.00
Sale: Was £145 now just £50!

Collect data from 10 instruments via TCP/IP, RS232, RS485, Modbus, RS422. Save data in text files or send directly to Excel. Includes Logger, Chart and Control applications, and software to troubleshoot COM port communications. For a multitude of devices including laboratory balances, GPS, digital indicators, PICs...

750: Low Cost Measurement & Control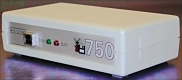 £150.00

For 16 analogue inputs, 16 digital inputs/outputs and 8 counters. Connect up to 8 units to a PC. Includes logging, charting and control software. Data saved in text files, or passed directly to Excel.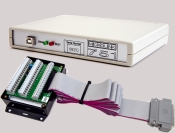 £360.00
Sale: Was £730 now just £360!

Monitor 16 thermocouples and voltages, digital I/O and counting. Connect 8 units to 1 PC and monitor 128 thermocouples.